Now (almost) as much a part of the summer style calendar as The Chelsea Flower Show or Cannes, the Bicester Village British Designers Collective is in its sixth year. Launched last week, the latest pop-up presents some of our biggest British fashion talent in a theatrical new setting. As usual, the Bicester PR machine commandeered a train carriage just for press, to give us an early preview of the BDC before it opened to customers.
This year's British Designers Collective boasts a cleaner layout, leaving space in the centre of the store for… a gigantic tree root. It's all part of this summer's 'Best Of British' theme, which was reflected in the nature motifs and idiosyncratic touches. Fashion-wise, this year's selection feels like it's focused on the extra special occasion-wear pieces – Mary Katrantzou's unique prints, Peter Pilotto's cascade dresses, Sophia Webster's playful heels and Holly Fulton's decorative accessories. If you're shopping for a bit of a do, then this is a not-to-be-missed opportunity to buy something out of the ordinary (at a very good price). Other British Fashion Council designers taking part include Ryan Lo (his colourful handknits were my standout), House of Holland, Thomas Tait and Eudon Choi.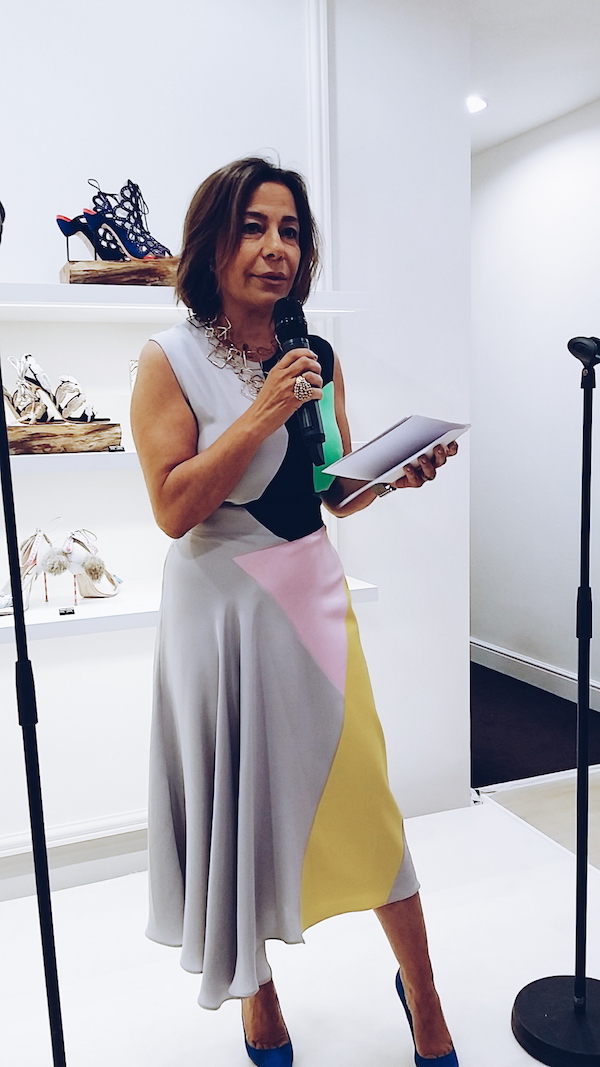 As the biggest event in the Bicester Village calendar, the British Designers Collective has become a major draw for fashion lovers here and abroad. "People come here especially for British Designers Collective. They like not knowing what they're going to get," explained CEO of Value Retail Desiree Bollier, of the outlet village's huge overseas clientele. "They travel a lot, they've seen everything, so this is an opportunity to surprise them with something new. Our customers expect it." I'm sure they weren't expecting the knotty tree branch sprouting from the wall of the store, which is suitably eccentric, yet somehow perfectly apt.
Elsewhere at Bicester Village, it's shopper's heaven at the moment, for a few reasons. Summer is generally a better time to get deals here, because lightweight tops and jackets are more affordable than coats. Then there's the brands on offer. The 'village' is always evolving as new stores come in or small stores upgrade to bigger premises. Prada has become one of my favourite destinations and thankfully it's now in a huge two-storey building so no more queues. I was – ahem – bowled over by the array of squat, fabric bowling bags in dfferent prints, all priced around the £250 mark. There's also a ton of Miu Miu in right now, for those in need of a silk blouse or a leather bomber emblazoned with retro graphics.
Céline is always reliable, with this season a riot of primary-colored abstract prints and painted corrugated metal jewellery. Givenchy is a brand new arrival at Bicester Village, selling menswear, womenswear and lots of accessories including these tooth pendants. And Saint Laurent is looking great, now properly stocks with a full complement of Hedi's tuxedo tailoring, lip-print silks and leather biker jackets (plus these snazzy winkle pickers for the boys). In fact, the Bicester buy seems to be super-wearable and almost classic this season, meaning that however much you can afford to spend, your investment will go far. And that I guess is what has made Bicester one of the Uk's biggest attractions in the last 20 years. If you want wearable perennial pieces from great brands but aren't obsessed with the buy of the moment, then that's what you get here, in a beautiful setting. But for now, if you want something a bit different from established and new British-based designers, then head to the British Designers Collective pop-up, it's only there for six weeks.
THE BRITISH DESIGNERS COLLECTIVE IS AT BICESTER VILLAGE, BICESTER, OXFORDSHIRE, OX26 6WD FOR SIX WEEKS
WORDS AND PICTURES: Navaz Batliwalla/Disneyrollergirl
[IMAGES: Top to bottom
British Designers Collective store exterior; drinks on arrival; Ryan Lo knitwear; Sophia Webster shoes; Thomas Tait, Desiree Bollier's welcome speech; Holly Fulton handbags; a 'tree root' inside the store; Holly Fulton dresses; Sophia Webster shoes; House of Holland dresses; Holly Fulton print detail; Mary Katrantzou dresses; fabric bags in the Prada store; Miu Miu jacket; Celine x 2; Givenchy; Saint Laurent men's shoes]