OK, Arket hasn't opened yet but first impressions are rather promising. It helps that the press day was meticulously merchandised, the catering was fantastic and the goody bag contained a useful duo of linen tea towel and 'good' olive oil.
In case you missed it, Arket is (yet) another new brand from the H&M stable, launching in early autumn. It's schtick is 'intelligent' clothing with a big focus on sustainability and transparency, so anti fast-fashion if you will. You will be hearing and reading a lot about Arket in due course, so I'm going to jump straight to the product for now.

CLOTHING The brand seems to sit between Cos, & Other Stories and Uniqlo U so I'm sold already. The collection is particularly strong on basics and it plans to replenish key styles every season with an easy coding system so you can identify and reorder the exact piece. (Arket means 'sheet of paper' in Swedish but also lends itself to the concepts of archive, archetypes and market.) I loved the fabric quality of the camel trench coat and mac, and the recycled cashmere knitwear. I also clocked a great pair of millennial pink jeans and a pair of cream cigarette jeans.
There's an excellent basic tee that comes in three different weights depending on the season or your preference. (These start at £12). Everything looks and feels luxurious, which as I said, was helped by the beautiful visual merchandising and attention to detail. If this is replicated in store (note: this is only the press preview venue)  it will certainly be an irresistibly seductive experience. Menswear is also well considered, perfect for the style-not-fashion guy who likes a consistent uniform of quality perennials. There's a lot of khaki green nylon to keep him happy along with denim and minimalist sweatshirting. Childrenswear is another component and fits the same democratic, made-to-last brief.


ACCESSORIES The women's bags looked good too, although everything was so precisely placed I didn't dare touch anything. But I spotted a tan tote or two and lots of small leather goods. I also noticed a pair of Veja trainers. Arket will be bringing complementary accessory, shoe and homeware brands into the fold as and when they fit their mix. Veja, the ethically sourced eco brand sounds like a natural fit.


HOMEWARES The Arket concept feels very much aligned with the current mood for Scandi 'lagom' style. That is, bright, airy spaces, utilitarian functionality and an uncluttered aesthetic that won't date too quickly. To that end you can shop the look by buying homewares such as serving bowls and Duralex glasses alonside your tees and knits. There isn't a beauty offer in the same way that & Other Stories does it, but you can buy Aesop-esque hand wash and hand balm to keep your Instagram bathroom game strong.
CAFE The store will open in London's Regent Street in early September (the exact phrase I heard was,'before Fashion Week'). It will feature a cafe founded on the New Nordic Food Manifesto (um, me neither), which is a key feature of the store and something I feel adds to the 'feel' of a store if done well and with love. You can also buy a few foodie products to take away, so it slightly reminds me of Ikea (confession: I've actually never been to Ikea) and the cult of its meatballs. I'm wondering if it's hoping its cookies and Birch water will get cult status, making it a tourist destination? We shall see. Another key feature will be these gorgeous oak Skedblad chairs (above), designed in 1933 by Carl Malmsten and manufactured exclusively for Arket.
TLDR Main takeaway, Arket is hoping to pioneer a conscious approach to high street shopping. The product – men's, women's, childrenswear and homewares – is well designed with a focus on longevity and fit for purposeness. Fashion editors will love its classic basics but customers will need some novelty newness, which could well come from the store environment. There are plenty of other people doing elevated basics already, so there needs to be a point of difference for this to succeed long term. I'm hoping the responsible consumer angle will be a game changer that really educates fashion enthusiasts to rethink their shopping habits.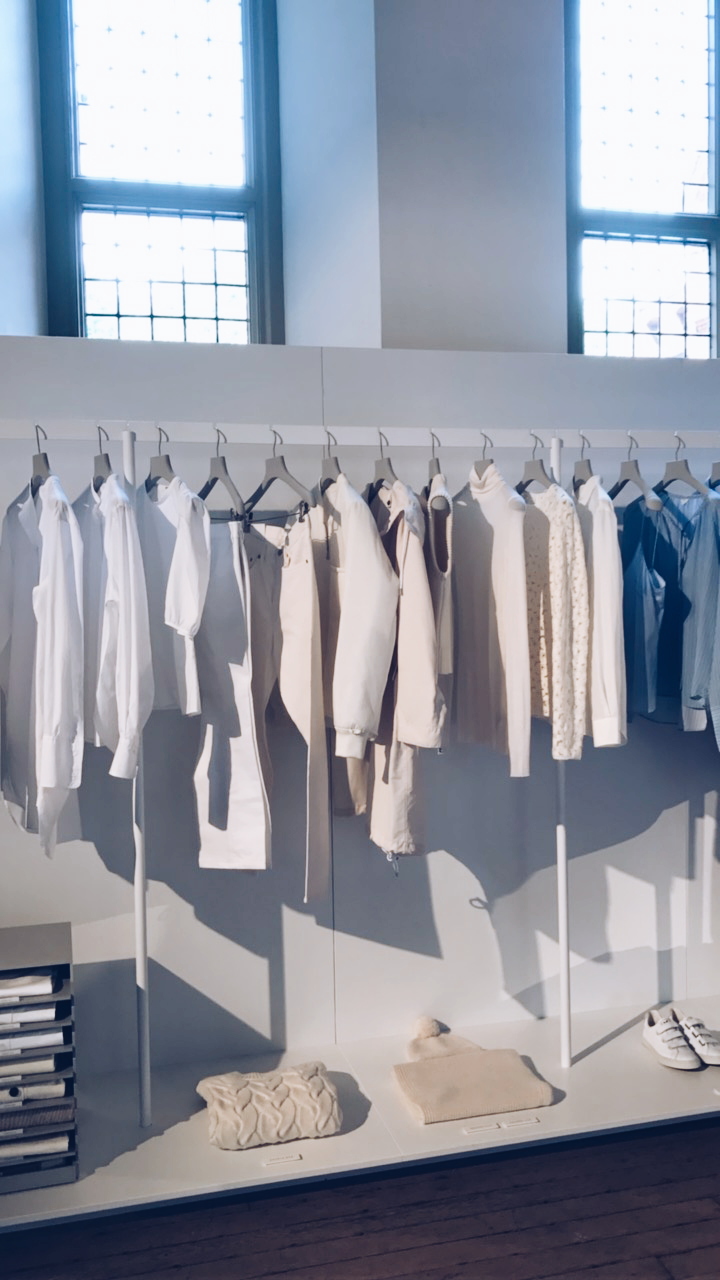 WORDS AND IMAGES: Disneyrollergirl/Navaz Batliwalla
NOTE: Some posts use affiliate links and PR samples. Please read my cookies policy here
CLICK HERE to get Disneyrollergirl blog posts straight to your inbox once a week
CLICK HERE to buy my book The New Garconne: How to be a Modern Gentlewoman
Save
Save