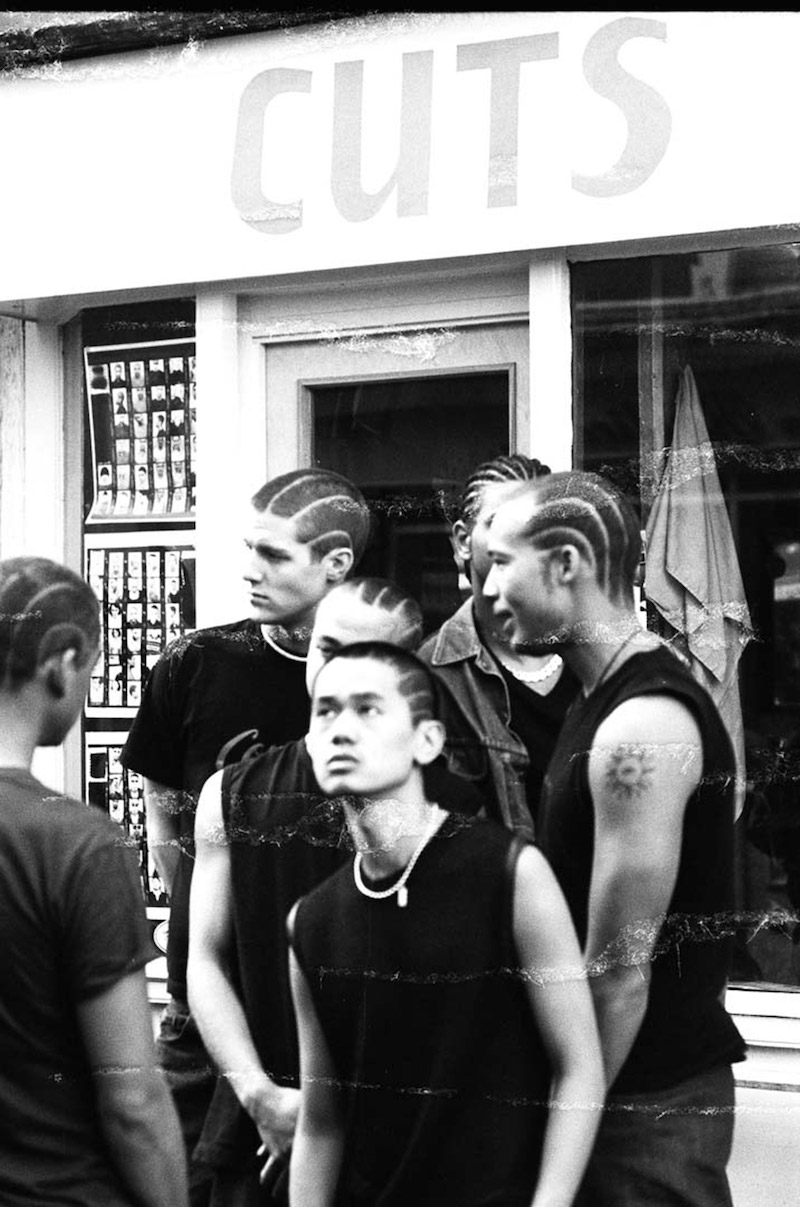 It's been a bit of a whirlwind month for CUTS, my hairdresser and London landmark of sorts. It's a kind of 'if you know, you know' thing; it's been around forever but was never treated as a 'brand', rather a word of mouth hangout that does very good hair. (Side note: they came out with the phrase 'You Look Good' long before anyone else.)
CUTS started in Kensington Market during the post-punk years, then progressed to Kensington Church Street (I would pass it on the way to school) and ended up in Soho where it's been for a couple of decades. It's where I went when I decided to go short in the early 90s. I was inspired by this pic of Lindsey Thurlow – remember, the Comme model…?
Last month finally saw a London Film Festival screening of the CUTS film, No Ifs or Buts, that Sarah Lewis famously spent 20 years making. It was meant to be a year of fly-on-the-wall style filming, but somehow stretched out into two decades as the stories about the CUTS family unravelled and entwined as all good family yarns do. CUTS is an extended family and that's the story that Lewis ended up telling in her doc.
The central characters are the late James Lebon and his friend and CUTS co-owner Steve Brooks. James was charismatic and devastatingly handsome, almost a celebrity in his West London social circle. Steve was cheeky and charming on the outside, but inside battling more than a few demons.
There's a twist to the tale in that while working on the film, Lewis came across a cache of contact sheets of hair portraits. These were the shots that Steve Brooks would take of his patrons post-haircut. It was a casual thing. After a cut, he would often say, 'can I take your picture' and with that gold-toothed smile, you couldn't really say no. You would go to the basement and be in and out in five minutes. The contact sheets would then go in the window. Years later, Lewis realised these photos were actually pretty freakin' amazing!
And so it came to be that Brooks' friends Mark Lebon (brother of James and also a rather important photographer) and Michael Kopelman (of Gimme 5 streetwear agency fame) put the photos in a book, which has just been published. It's full of simple, untampered-with triptychs of beautiful people and – I'm just gonna say it – lots of hot boys. Plus a few girls – there's one of me somewhere in the middle.
The book is out now but has been selling fast. Update: Looks like it's sold out. I'm not sure when the film will get another screening. But if you want a great haircut, in laidback, familial surroundings, with plenty of banter and eye candy, then CUTS is open for business. And hopefully will be for some time to come…
WORDS: Disneyrollergirl / Navaz Batliwalla
IMAGES: CUTS/Steve Brooks
NOTE: Some posts use affiliate links and PR samples. Please read my privacy and cookies policy here
CLICK HERE to get Disneyrollergirl blog posts straight to your inbox once a week
CLICK HERE to buy my book The New Garconne: How to be a Modern Gentlewoman