Here's the latest weekly DRG STYLE INDEX ranking, a round-up of the brands currently buzzing on my radar…
1. NUDIE JEANS REPAIR SHOP COMES TO NOLITA


I love my American denim, but when I was into skinny jeans, I wore nothing but Nudies. It has the best super-dark denim and a thoughtful approach to manufacturing and sustainability. Nudie has just opened its latest Nudie Jeans Repair Shop in New York (188 Bowery, 10012), with full collections of organic unisex denim, as well as its free repairs on your Nudie jeans. The free repair model is catching on with other denim brands, but Nudie has impressively good numbers. Last year, 30,000 pairs of Nudie jeans were repaired and this year it's expected to be 40,000+. It's a great way to get people coming back to your store and keep wearing their Nudies…

2. SHINOLA'S ANTI CYBER MONDAY


I like this idea from Shinola that underscores its keep-forever ethos. Tomorrow it's saying no to the idea of a Cyber Monday shopping frenzy with 'Makers Monday', its in-store demo of slow consumerist hand-crafting that celebrates local makers. In London, we'll have a series of British makers showcasing their skills at the Shinola London store on 13 Newburgh Street, W1 and there will be similar activities going on in its ten stores worldwide. See more on Monocle.

3. HANRO'S BOLD MOVE


God knows we need some uplifting colour in the world at the moment, so I'm all over this injection of brights from Hanro. I wear these 1601 spaghetti strap vest tops religiously. The shape is pretty much unchanged since they were first introduced, and the combo of the seamless design in mercerised cotton with delicate satin straps continues to be a winner. To celebrate 30 years of the 1601 vest top, Hanro has just rolled out these six upbeat colours – perfect timing to go under all those 90s slip dresses, no? They retail at £30.50 and you can find them HERE and at Fenwick.

4. BUY IT NOW: AGNES B STAMPS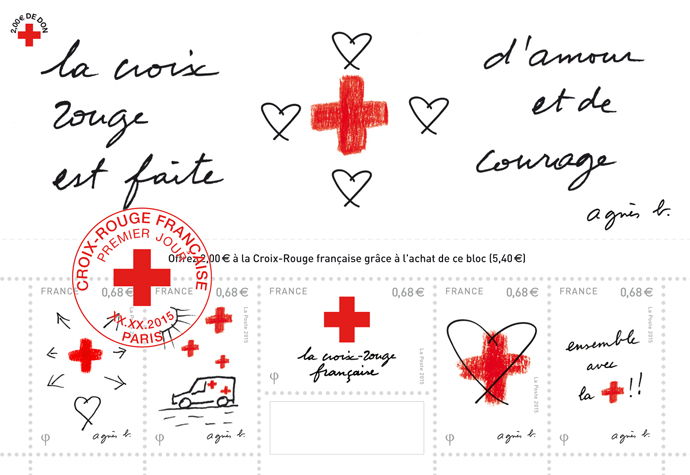 Stamps and Agnès b – two things that I love. I actually meant to post about these beautiful stamps a few weeks ago and they seem even more poignant now in light of the Paris attacks. Agnès b has created these French stamps to benefit the French Red Cross. The booklet of five stamps is being sold in post offices and Agnès b boutiques across France with a percentage of the price donated to the French Red Cross. Read more on WWD.

5. NEW BALANCE IS BRINGING 3D PRINTED SHOES TO MASS MARKET


It's taken a bit longer for 3D printing to reach the consumer market than we imagined. But the trainer brands are way ahead of the game, with New Balance the latest to reveal a trainer with 3D printed technology ready for market. In April, it's releasing the first high performance running shoe with a 3D-printed midsole, available in Boston to coincide with the Boston Marathon. 3D printing enables faster, more efficient manufacturing with less waste and in this case, results in a lighter shoe. 3D printed trainers also lend themselves to customisation, but for New Balance, that's some way off. But it suggests that some customers will be able to customise their 3-D printed midsoles as part of a trial program in 2017. Read more at Fast Company.
WORDS: Navaz Batliwalla/Disneyrollergirl
IMAGES via Nudie, Shinola, Hanro, WWD, New Balance
Save