You'd think a couture gown or Savile Row suit was the ultimate luxury but I can think of something even better. Stationed at the back of Levi's London flagship store is its recently introduced Lot No. 1 made–to-order jeans service. The answer to every denim connoisseur's prayers, it's a meticulously executed personal service that puts the customer at its heart. And I imagine it could become quite addictive.
It's a truth universally acknowledged that however vast the choice of jeans available to us, the search still continues for The Ones. That's certainly true in my case – however close I think I've come to perfection, I've still not quite reached denim nirvana. So Lot No. 1 exists for denim nitpickers like me. Let's be clear, this is for lovers of deep detail, choice and provenance. (As such, it's also reserved for those with deep pockets – the service comes at a flat cost of £500.) You start by choosing your denim from beautifully presented swatch books. "The real denim heads tend to choose Cone Mills denims (a raw selvedge American denim), that's the choice of the denim purists," explains my host, master tailor Lizzie Radcliffe, a Savile Row transplant whose love of utilitarian clothing brought her to Levi's. "Our Japanese customers go for the heaviest weights, they like breaking them in."
For each swatch you can see what it will look like after a certain number of washes, a crucial detail in the first stage of choosing your denim. Next you select your rivets and buttons, again the choice is yours (from seven colours and two styles), followed by colour of threads. There are 20 thread colours to choose from, with navy thread on navy denim considered to be the smartest option. And yes, you can even choose your colour of leather patch from a choice of twelve, including one vegan. I absolutely loved geeking out over all the finer details (four different choices of cotton for the inner pockets – because hey, these things matter!). I think the one-to-one learning process and the unhurried method of choosing your components are as much part of the package as the finished 'made for you' jeans.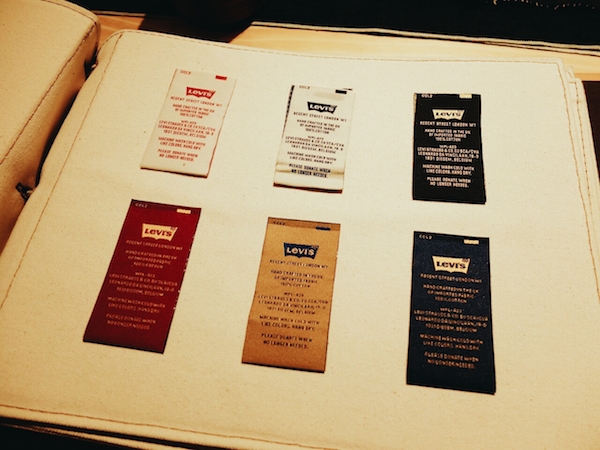 Having chosen the denim, threads and buttons, it's time to work on the actual cut and fit of jeans. For some, this is the crux of the service. There are samples available in all waist and rise sizes, which can be tried on and then adjusted. "Slim, straight jeans are the most requested cut, although carrot jeans are popular too," says Lizzie, who also points out the importance of discussing how they'll be washed and worn because that affects how the jeans will sit on your waist. ("Most people say they won't wash them for the first two months.") The higher the rise, the lower the size seems to be the rule of thumb, and although clients are encouraged to try on all the different sizes, Lizzie is more than adept at sizing them up with a precision glance.
Surprisingly, the ratio of men to women using the service is a massive 95% male majority aged 25-40. "It's men with sporty thighs, short guys, wider men," says Lizzie. Which is understandable; if you're a non-standard size, why wouldn't you want made-to-measure jeans that you know will fit you perfectly? Of course, as well as money, you need time; this is no overnight rush job. Working mostly on her own, Lizzie takes 4-6 weeks to turn around a pair of jeans depending on how in demand the service is.
One friend pointed out that Levi's is supposed to be egalitarian. It's the ultimate in utility workwear after all, so doesn't it go against the brand ethos to make elite £500 jeans? It's a valid point but I don't see it as a frippery. From the fabrics sourced from the best mills globally, to the vintage machines – stitching machines, overlockers, rivet and button attachers – you're looking at the best of everything to do the job. As such, these jeans are made to last so aren't a 'fashion' buy so much as a shrewd investment. One that will earn its keep cost-per-wear, and improve with age for years to come.
Levi's Lot No. 1 is available at Levi's Regent Street, London. For an appointment or information, email [email protected]