I took a trip to the Smythson workshops to find out how their famous business cards are made
Shock confession: in six years of freelancing I haven't had a business card. The shame! I've somehow survived on the dual methods of LinkedIn requests and pitiful scraps of Moleskine paper but that only gets you so far. Much better, I decided, to step things up and investigate the process of designing and printing bespoke business cards. Not just any business cards you understand, but the ultimate in luxury and elegance – Smythson's copperplate printed cards.
Here's the thing: we're all self-branders now. From bloggers to entrepreneurs, to graduates, to CEOs, how we present ourselves is everything. And as a business card is often the only thing a new contact has to remind them of you, it had better be something that instantly conveys quality, integrity, style and whatever other characteristics you're hoping to hook them with.
At Smythson, you can order business cards online or in the store. I chose to do it the old school way, at the Bond Street flagship on a very comfortable sofa, browsing through folders of examples of designs.
Smythson specialises in engraving, so whatever else you choose, your cards will have slightly raised type. For an engraved card in one style and colour of type, you're looking at a starting price of £164 for 50 cards. As more bells and whistles are added – different colours, brand logo, typefaces, gilding or coloured borders – the cost goes up. I found it overwhelming looking at so many different examples, each one better than the one before, so it's good to be flexible and let yourself be guided. But if you're a stationery geek, it can also be a very pleasant, educational experience – who knew for example that women's cards were traditionally bigger than men's?
There are certain rules to business cards and the Smythson experts generally know what works well. I wanted a classic, handsome card with just my basic info, in line apparently with the general trend for minimalist, information-light cards. I liked the simplicity of Smythson's own St Germain lettering and chose a mandarin ink and Cream Wove 300gm card stock.
I also went against the grain by choosing to have my website URL and email address all in upper case. Once you're happy with your choices, in about 48 hours your design proof will be emailed to you for approval and you can go back and forth tweaking until you're satisfied.
At Smythson Bond Street I looked at pages upon pages of layout examples, lettering styles and a drawerful of business cards to help me make my choice…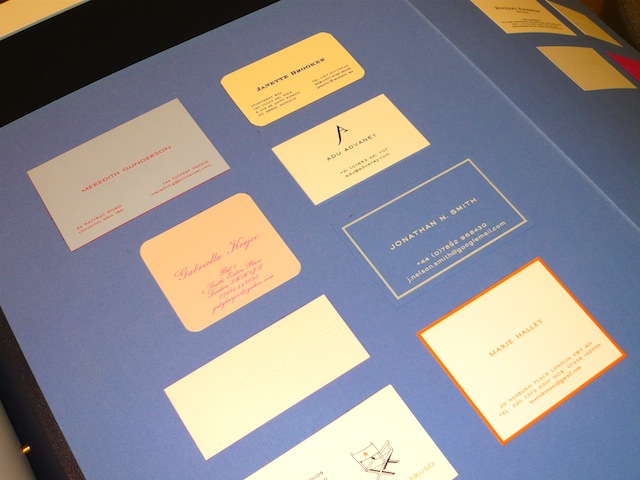 Next, a very exciting thing happened for me. I got invited to visit the factory to watch the printing process! Well you know I love a factory visit, right? The factory is based in Swindon, a swift one-hour train journey from Paddington station. As I'd hoped and expected, it was staffed by skilled workers who have honed their techniques for years on end. The old school die-stamping printing presses are irreplaceable originals that were made to last, so although they might be cantankerous beasts, repairs are done on site to keep them constantly in use.
In this facility they print business cards, correspondence cards and also gold stamp leather goods. The royal family is a long-standing regular client and on passing one machine, I was told there was some 'sensitive' printing going on and asked to avert my eyes. (Two days post the royal baby birth, I wonder what it could possibly have been?)
Instead I was ushered into the etching room where the first part of the printing process takes place. After the typesetters in the upstairs office have approved designs, they're developed onto film, which is printed onto a flat copper plate. The copper plate is etched using the designs of multiple cards – one big piece of copper can hold nine designs. The etching tank is filled with acid and the copper plate placed inside. On average, 40-50 plates can be done in three hours. There are also etching tools for fiddly close-up finishing work, but generally this tank does the job…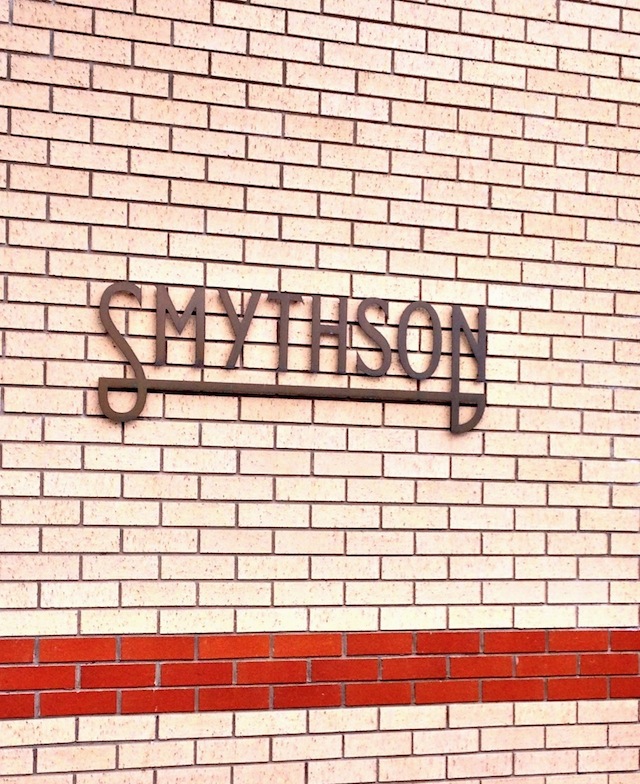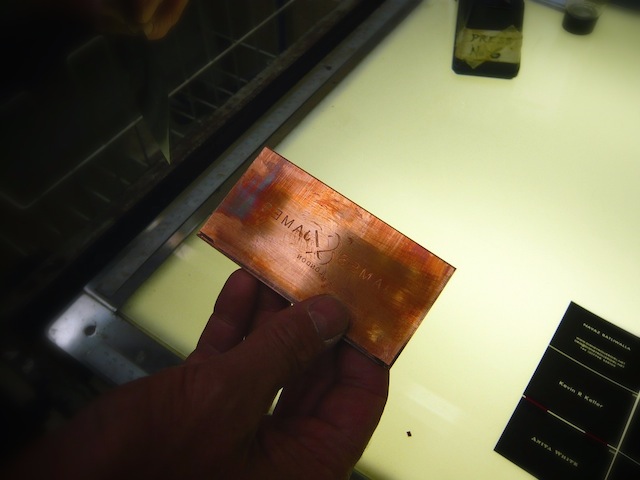 Emerging from the etching tank room, I was beyond thrilled to find my cards being printed right before my eyes. The cards are printed first and trimmed later and the speed at which the press operators feed the cards through the machine is quite impressive. As with the Hermes factories, at this level of luxury, quality control happens at every stage. The operators are well practiced in printing and checking almost simultaneously. As my card printer Dee told me, "It's like patting your head and rubbing your tummy at the same time!"
This machine was one of three hand-fed machines for smaller, personal jobs like mine. On average they have 20 orders a week for business cards (correspondence cards are their biggest sellers). The cards are then trimmed and the copper plates are stored in the warehouse for future orders.
All the waste, including excess globs of ink, is recycled – a hugely important consideration for Smythson I was told. You can choose from 30-odd colours of ink but if the colour you want isn't available, Smythson will make it up for you. The most requested colours are black or 'Smythson blue'…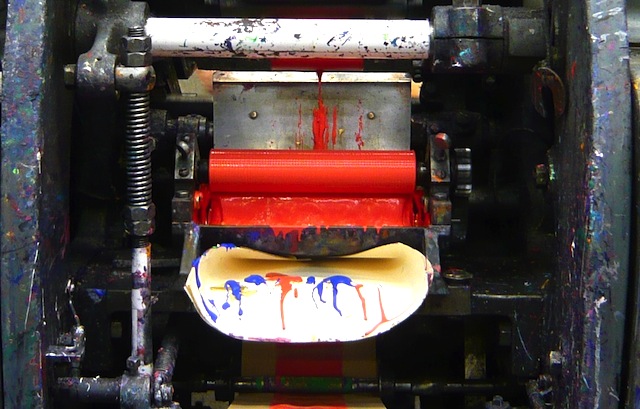 Next, I was shown the highly skilled craft of gilding and hand-bordering cards and envelopes. My tour guide, the effusive head of production Nick Sanford, nonchalantly told me that he himself designed and built one of the gilding machines. This very intense, precise work is all judged by eye and of course, is done at lightning speed…
Gilding…

Bordering…

Lastly, through to the much calmer finishing and quality control department. I was amused to see that the envelopes are tissue lined using good old wallpaper paste and of course I had to take a photo of the shelves and shelves of coloured tissue paper…

This is also where the gold stamping is done using hand set type from brass types. It's another skilled job that's now also demonstrated in store. Seeing your items personalised in front of you is "all part of the magic", says Sanford. I can certainly concur. This is also the final checking area where boxes of correspondence cards, Christmas cards and the like are hand checked one by one for any unspotted errors. As each process has its own checking system, final errors are few but the checks have to be done and any errant cards weeded out…

Next to quality control is a vast warehouse, where the copper plates of customers new and old are stored in endless drawers. This is also where leathergoods are shipped, stored and packed. For most customers, their business cards will be boxed and beribboned here around seven after they have approved the proof. For me, the beribboned box was waiting in a familiar blue bag as I finished my tour…

At last I can utter the words, "let me give you my card"…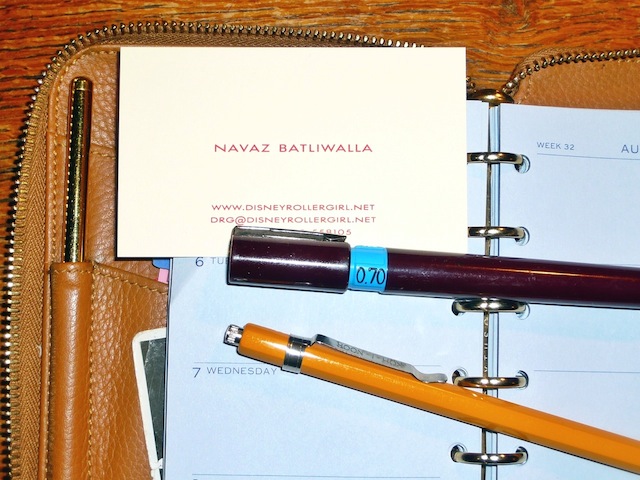 For more How It's Made posts, check out my other workshop and factory visits:
How Johnstons of Elgin scarves are made
How Chanel fine jewellery is made
Visiting the Lesage embroidery atelier with Chanel

For more on heritage brands and artisanal luxury, order my book, The New Garconne – How to be a Modern Gentlewoman (published September 2016)
WORDS AND IMAGES: Disneyrollergirl/Navaz Batliwalla
NOTE: Some posts use affiliate links and PR samples. Please read my cookies policy here
Thanks to Ula at Karla Otto, Nick Sanford and Ruth Baxter at Smythson
Save
Save
Save
Save
Save