The most eye-popping style exhibition has just opened at Chatsworth House in Derbyshire. 'House Style' is Chatsworth's biggest exhibition yet and I went along a couple of weeks ago with about 100 press and other guests to get an early glimpse.
Chatsworth is the residence of the current Duke and Duchess of Devonshire and has seen several generations of stylish predecessors. If you know about British history you'll know of the glamorous Mitford sisters, and 'Debo' the 11th Duchess of Devonshire in particular, a society beauty and fashion-lover whose Bruce Weber portrait of her feeding her chickens in a couture gown is a modern masterpiece.
The Devonshires descended from Bess of Hardwick, an Elizabethan powerhouse for whom Chatsworth was built in 1552. 'House Style' unearths hundreds of historical treasures from the family archives, from ceremonial dress to every iteration of couture finery, medals, accessories and ephemeral materials, plus all sorts of other delights which give context to a fascinating family.
The story goes that eleven years ago, the Countess of Burlington (nee Laura Roundell, a former model and fashion editor) was looking for a christening robe in the Chatsworth sewing room and discovered the wealth of treasures stored therein and beyond. She put a call in to her friend Hamish Bowles, Vogue's European Editor At Large and sometime curator, asking him to come for a forage. Bowles' knowledge of couture history is legendary, so he leapt at the opportunity. Between them they hatched the idea of an exhibition at Chatsworth House, roping in Patrick Kinmoth to stage it.
The results are a testament to this visionary trio with the most fabulous juxtapositions of Chatsworth's rooms, frescoes, artworks and furniture with the wild and wonderful archive finds. And to add a much-appreciated contemporary twist, there's also the inclusion of some choice recent fashion pieces. Some were created by designers inspired by Chatsworth (e.g. Gucci who sponsored the exhibition), some are on loan from museums, while others are pieces that have been worn in editorials by fashion's favourite aristo offspring, Stella Tennant.
We travelled from London to Chesterfield by train, then by coach through the verdant Chatsworth estate, arriving late morning to typically British steel-hued skies and damp drizzle. Having never been to Chatsworth before, the first distant glimpse of the house was a sharp-intake-of-breath moment.
As we entered the Painted Hall, coats came off, champagne flutes miraculously appeared and we marvelled at the immense painted ceiling depicting scenes from the life of Julius Caesar. In this, the first room of the exhibition, we were greeted with coronation robes and an Alexander McQueen cobweb mini dress, the one worn by Stella Tennant for Vogue's famous 1993 issue. In a nearby vitrine, you can see the Vogue spread, with a gamine, crop-haired Bella Freud modelling on the facing page. Both were present at the launch – cue much cooing and Instagram Storying to commemorate the moment.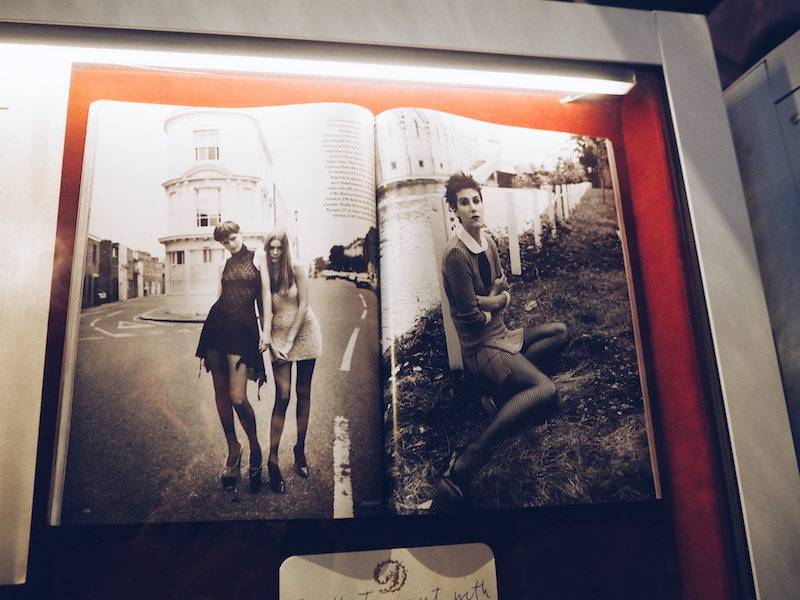 From the Painted Hall, we all transferred caterpillar-style to a vitrine that ran the entire length of a corridor. Tip: don't rush this bit! It's a lovely introduction to the Devonshire dynasty, offering up photos, letters, jewels and keepsakes with lovingly penned cards that describe the who, what, where of all the exhibits. The exhibition's raison d'etre is 'the storytelling power of clothes' and these are certainly stories worth telling.
In this room, I especially loved Andrew Devonshire's 1970 Converse boots, which were regularly whitened by his valet. Also, Debo's Elvis embroidered slippers and tinsel shoes, her Turnbull & Asser shirts, and insect-shaped jewels.
Other highlights include the Circle of Life chapel, where a display of wedding gowns has Stella Tennant's uber-cool Helmut Lang next to an early 20th century gown that is so understated and elegant it could easily be worn today. Then there's the State Bedchamber, where 16 of Andrew Devonshire's sweaters reside, all embroidered with a different witty slogan (my favourite is 'Never marry a Mitford'). And another highlight, a hall of hats juxtaposed next to complementary sculptural ceramics and artworks.
The Devonshire dynasty are renowned contemporary art collectors (the current Duke is deputy chairman of Sothebys) and you mustn't miss the cluster of Freuds on display at the end of the North Sketch Gallery – including this one. (Note: the North Sketch Gallery also houses the North Sketch Sequence, an installation of ceramic blocks by Jacob van der Beugel that runs the entire length of the gallery and is considered the most important art installation at Chatsworth since 1832. Commissioned by the current Duke, the ceramic blocks contain the DNA of family members and are intended to represent a kind of modern day portrait.)
The last room of the exhibition is the most celebratory. The 11th Duke and Duchess of Devonshire were known to dress in black tie for dinner, even if there were no guests. In this spirit, the Great Dining Room is populated with a delightful array of contemporary and historical finery, from Westwood squiggles, to Vetements florals, all accompanied by a soundtrack of ambient dinner party chatter.
By the time we reached this final display, we had been going for two hours. In this setting, thoughts naturally turned to lunch and so we made our way through to the former stable (via the massive gift shop) where a magnificent spread was laid on.
After an excellent refuelling, punctuated by industry gossip ("who is getting the Vogue editor job?") and ending with apple pie and coffee, it was back onto the coach for the return journey. I'm already planning another visit soon because one circuit was not nearly enough.
House Style is at Chatsworth House, Derbyshire until 27th October. More info at Chatsworth.org
WORDS AND IMAGES: Disneyrollergirl/Navaz Batliwalla
NOTE: Some posts use affiliate links and PR samples. Please read my cookies policy here
CLICK HERE to get Disneyrollergirl blog posts straight to your inbox once a week
CLICK HERE to buy my book The New Garconne: How to be a Modern Gentlewoman
Save
Save
Save
Save
Save
Save