Is it just me or do other people 'cluster' certain types of beauty products? My weakness is cleansing balms, facial oils and hand creams. The facial oils in particular are hard to resist. It's all about the aromatherapy for me, as facials oils are mostly an end of day pampering ritual and the scent adds to the winding down experience.
I was late to the facial oils party but got seduced a few years ago with The Sanctuary Spa Therapist Secret Facial Oil. A skin-balancing blend of rosehip, sunflower, jojoba, wheatgerm, frankincense and rose oils, it's still one of the best (and most affordable at £17.50) oils out there. I've tried a few oils that are just too heavy, greasy or sickly-scented, but these are the ones currently getting the most regular use and they're particularly welcome now that we're going from balmy autumn to full-on central heating season…
LA MER THE RENEWAL OIL Very expensive at £170 but oh, what a treat. This nectar-like dual-phase oil (containing La Mer's signature 'miracle broth') is one of the lightest and softest oils I've tried, with a delicious uplifting cologne-y scent that makes it perfect for daytime. I can imagine this would be a great option for guys too. I wear mine over serum, and moisturiser and wait a few minutes before my makeup goes on. I can't vouch for its wrinkle-smoothing claims but my skin definitely loves this stuff. Buy it here.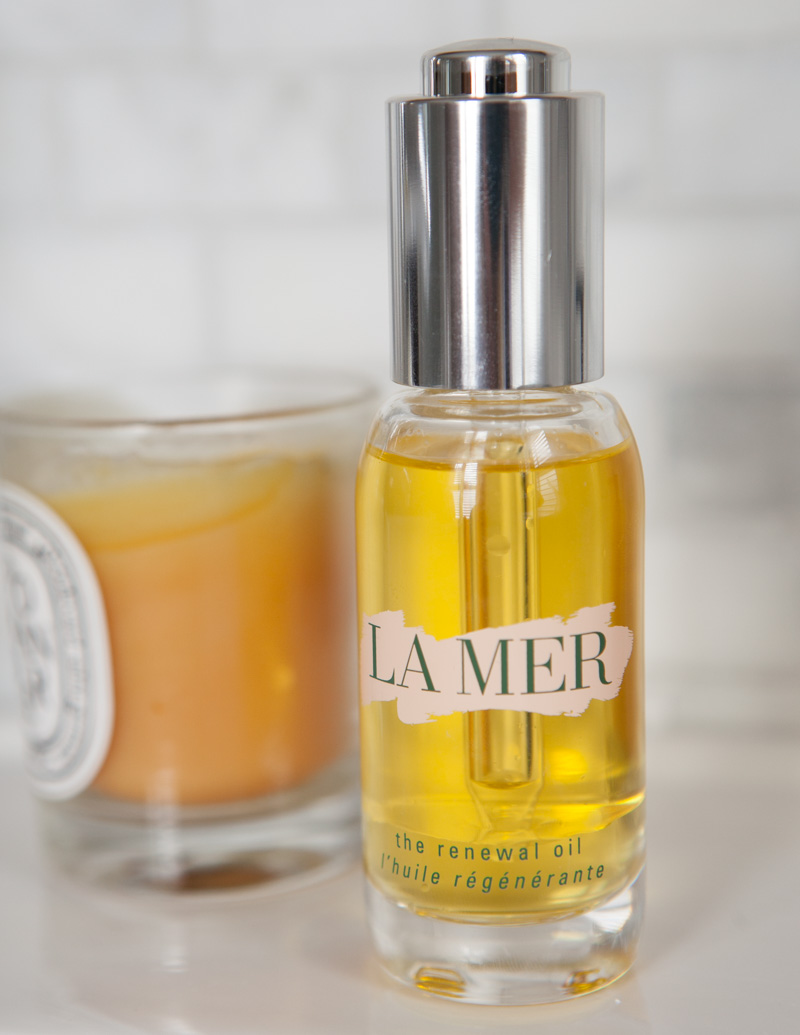 DR. HAUSCHKA CLARIFYING DAY OIL I use this on top of the Dr. Hauschka Facial Toner – it's an excellent combo. Formulated with carrot, almond oil, calendula and neem to balance oil production in the skin, it smells slightly medicinal but not unpleasantly so. It doesn't have a dropper so you just tap a few drops into the palm of your hand and press into the skin. Interestingly, Dr. Hauschka doesn't believe in oils for night. According to Annette Greco, its head of galenic development, your facial skin is regenerating at night, so shouldn't be loaded with product, even if it's organic! Buy it here (£25.50).
CHANEL JASMINE FACIAL OIL This elegant, minimalist jasmine oil is just the chicest facial oil ever! A blend of naturally derived ingredients, including jasmine extract from Grasse, it's on the light end of the spectrum, and even though it's jasmine-scented, it's very subtle. I use it for both day and night. In the daytime, I use just a few drops, avoiding my T-zone (I find this light oil is best for oily and combination skins) and in the night, I use a few more drops. It sinks in quickly, leaving non-greasy but glowy skin that's a nice, smooth base for make-up. Buy it here (£97).


WILLOWBERRY NUTRIENT BOOST TREATMENT OIL This vitamin-packed facial oil is from a new line of small-batch naturally-derived skincare products, all made in the UK. This is also super-light so it's suitable for day or night but I prefer it at night as the heavenly rosewood and geranium scent is so relaxing and the consistency has the perfect 'slip' for massaging in for a few minutes. As a brand, Willowberry is passionate about transparency and respectful of today's self-informed beauty consumer, so lists all ingredients on its website. For a small-batch, cold-pressed oil, I think the £22.50 price tag is very reasonable. Buy it here.

NOW CLICK BELOW TO SHOP THE POST…


WORDS: Disneyrollergirl/Navaz Batliwalla
IMAGES: Emma Miranda Moore
NOTE: Some posts use affiliate links and PR samples. Please read my cookies policy here
CLICK HERE to get Disneyrollergirl blog posts straight to your inbox once a week
CLICK HERE to buy my book The New Garconne: How to be a Modern Gentlewoman
Save
Save