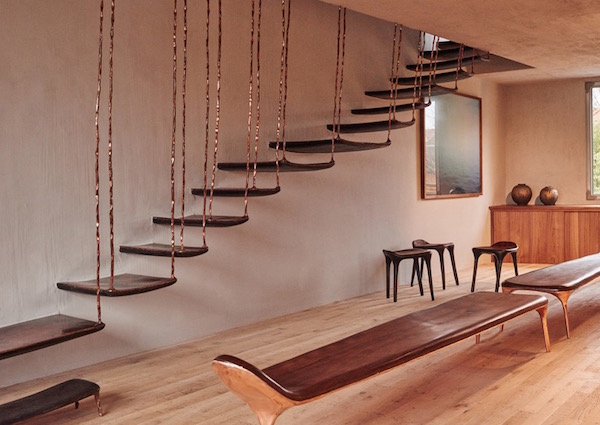 If you're planning a trip to London and want to see some retail newness, you'd be mad to miss Blue Mountain School.The name alone is artily seductive with its Rauschenburg-esque 'Black Mountain College' connotations, and the building… well you'll have to see – and feel – for yourself.
The NYT has all the spoilers, but suffice to say a lot of time, money and thought has gone into this unique six-level Shoreditch corner store. I got a sneaky tour a few weeks ago as a guest of perfumer Lyn Harris who invited me to dinner with a few friends and family. Lyn has a space on the lower ground floor selling her 'Perfumer H' perfumes (below) next to the fashion archive of founders James Brown and Christie Fels' original Hostem store.
Each floor is vastly different and you can't really even call it a 'store'. Yes, it sells things, but pretentious as it sounds, it's more of an experiential 'space'. "This is not about shopping," Fels tells the NYT, "but providing a platform for artists with integrity, who take their craft to its purist form and create meaningful, enduring work."
Even if you don't buy anything (not everything is for sale but the items that are, are very expensive), you go away feeling completely sated. On the first two floors are Amy Revier's hand-woven colourblock coats and an installation by Tyler Hays' BDDW studio featuring mini ceramic sculptures sprouting out of a wall of handpainted tiles.

On a floor with its own separate entrance is (Chiltern Firehouse super-chef) Nuno Mendes' Mãos, a restaurant with only 14 covers a day. It's a three-hour tasting menu with the most impeccable attention to detail, served around one giant communal table. Then up an astonishing copper and wood sculpture floating staircase by Valentin Loellmann is a 'listening room' based on the Japanese kissaten where participants listen silently to carefully curated tunes (sounds not unlike one of Mr DRG's boys' nights in!). It's all about taking time to enjoy beauty, culture and craftsmanship for its own sake.
At dinner (not gonna lie, it was superb), I overheard a couple of concerned fashion types murmuring "how will they make money?", no doubt tallying up the two-year costs of building the venture so far. Alas, that's what fashion peeps discuss at dinner parties these days; it's not all sequins and sexploits, you know…
Blue Mountain School is at 9 Chance Street, E2
WORDS: Disneyrollergirl/Navaz Batliwalla
IMAGES: Alastair Strong and Lewis Ronald, New York Times; Blue Mountain School
NOTE: Most images are digitally enhanced. Some posts use affiliate links and PR samples. Please read my cookies policy here
CLICK HERE to get Disneyrollergirl blog posts straight to your inbox once a week
CLICK HERE to buy my book The New Garconne: How to be a Modern Gentlewoman