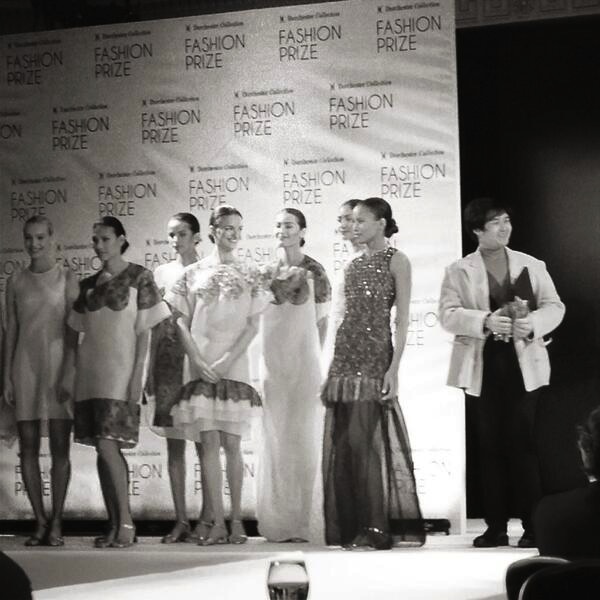 Huishan Zhang's signature embroidery is based on an interlocking figure of eight, which in his native China is the luckiest of numbers. Who knows if this helped the fledgling designer's recent win of the coveted £25k Dorchester Collection Fashion Prize? On closer inspection, it's more likely the clincher was his impeccably-cut dresses (he trained at the Dior couture atelier) and decorative ways with crystal-covered lace.
A London-based St Martin's graduate with a production team based in China, his prize includes one to one mentoring from a selection of the judges. I witnessed the prize-giving a couple of weeks ago and as the judges retired to choose the winner (the other finalists were Barbara Casasola, Fyodor Golan and Emilia Wickstead), a few of us guests discussed the prize. "I wonder how many of these finalists really need the cash," I mused aloud. "I can assure you that the prize money will be valued by every one of those designers," insisted the lawyer sat beside me, who works with a number of young BFC brands. But while the money is certainly gratefully received, the mentoring is of equal value.
"You win not just money but support, mentoring and recognition, which in some ways are more valuable for a young designer. You can't buy that kind of encouragement," Zhang told me later. "In terms of a cash prize though, every young designer will face different challenges. For me it's about taking every opportunity as it comes and working hard so that the money can further the brand in a very natural way."
Zhang already seems to have a smart business set-up, with his whole family employed to help run the operation both in China and London. Long term plans focus on building a lifestyle brand for well-travelled, cultured women who really appreciate luxury. "I think of these inspiring, modern women and want to create complete contemporary wardrobes for them," says Zhang. "I want to stay honest and innovative in my designs and build something special."
Previous Dorchester Collection Fashion Prize finalists and winners have included Mary Katrantzou and Thomas Tait. Coincidentally, both have been represented by RelativeMO PR, as is Huishan Zhang. The first time I clocked his work properly was back in March on a rail at the Relative press day. The delicate mixed-media dresses (below) and petite knits grabbed my attention for their simple shapes but complex treatments executed with a light touch. They were both a little unusual yet highly commercial (see them on the Farfetch and Avenue32 websites). With the recognition and financial support that the Dorchester Collection prize delivers, it will be interesting to watch how Zhang progresses up the luxury fashion food chain in London and internationally.