Tag Archives:
Stella McCartney
Posted on 21 June, 2014 by Disneyrollergirl
Bam! Nothing for ages, then all the sales start at once! Net-a-Porter, Matchesfashion, Liberty, Selfridges and Harvey Nichols all started their sales last week. I'll be cherry picking my way through but to start with, here's a quick pick of my current highlights. There's a ton of Miu Miu and Isabel Marant on sale at Net-a-Porter but be warned, those sizes will go fast (there's currently only one of these Miu Miu skirts left).
If you're not over Rockstuds, Valentino's leopard-spot flats are a bit different and now selling at 30% off at Matchesfashion. That Marc Jacobs 'Coke-ribbon' sweatshirt? It's still kicking around and is 40% off at Net-a-Porter – yours for £720 (but there's only one size left). And if you're a lover of McQueen handbags, this red skull-padlock beauty can be yours for £470.01 at Liberty with 30% off. Shop the edit below…
[Main image: Nigel Shafran/Vogue]
Posted in

Shopping, Trends
Tagged

accessories, Alexander McQueen, best fashion blog, Coca Cola, Isabel Marant, Marc Jacobs, Matchesfashion, Miu Miu, Netaporter, sale shopping, shopping, SS14, Stella McCartney, trends, Valentino
Leave a comment
Posted on 27 May, 2014 by Disneyrollergirl
Summer is when I get (a little bit) more adventurous with colour so I'm well into all the primary brights we're seeing popping up everywhere. Rich royal blue is an easy choice for the colour-shy as it's almost a neutral so I'd wear that in a bomber jacket or rain mac (I'm currently looking for the perfect single-breasted mac). My manicure of the moment is Estee Lauder's Pure Colour in Impassioned, a candy apple red that can skew either formal or casual. I also can't get enough of Kelly green, especially in a fun print (hello Mother Of Pearl shorts), while a sunny shade of yellow lends itself beautifully to accents – this jolly Fendi key fob for example. Finally, thank you Keep It Chic for alerting me to Thomas Maier's Cruise 15 collection. You can't buy it now but as inspiration for a relaxed red suit, it serves very nicely…
Posted in

Designers, Shopping, Trends
Tagged

beauty, Estee Lauder, Fendi, gentlewoman style, Hermes, Michael Kors, Mother of Pearl, Nike, primary colours, shopping, SS14, Stella McCartney, The Row, Thomas Maier, trends
1 Comment
Posted on 1 November, 2013 by Disneyrollergirl
A NEW COLUMN: 'ASK ALISON' BY DRG CONTRIBUTOR, ALISON BISHOP
Sports-luxe is back into the fashionista psyche, judging by the recent round of SS14 catwalks, but this time around it's infused with a tech-enhanced performance.
In London, Stella McCartney showcased her new performance-fabrics focused range for Adidas 'to inspire women to get their sweat on'. From spinning to aerial yoga, the collection integrated sustainable textiles and lightweight breathable outerwear into a more dynamic offer. Continue reading →
Posted in

Brands, Design, Events, Technology, Trends
Tagged

Adidas, Alexander Wang, Alison Bishop, Burberry, kenzo, Nike, sportswear, SS14, Stella McCartney, street wear, technology, trends, wearables
1 Comment
Posted on 28 May, 2013 by Disneyrollergirl
Now here's something timely for all those agonising over what to wear for the wedding/polo/posh barbeque season. THE OUTNET.COM
has just launched a pretty impressive Stella McCartney sale, featuring some of the greatest hits of recent seasons. Examples: my favourite stripes from Cruise 2012, the perfect cream silk charmeuse shirt, fabulous walkable perspex-heeled pumps and a heap of wear-everywhere tailored blazers. There's a lot to choose from. This way please…
*prices from 40-70% off original retail price
Posted on 21 January, 2013 by Disneyrollergirl
This winter I did really well on the jumper front so for now I can ease off on the knitwear buying. That said, I'm very drawn to Stella's fruit salad chevron stripes and these Maria La Rosa socks. For tapping into the big 60s monochrome story, Motel's block-striped top will come in very useful, both with tailored skirts (like Carven's lush poppy red one) and boy fit jeans. Its loosely cut proportions are very flattering and the zip at the back makes it slightly more dressy. While the skinny cigarette heel is making a huge comeback, chunky heels and flatforms are still best for everyday city living – preferably dipped in silver or gold…
ABOVE LEFT TO RIGHT:
TOP: Stella McCartney top; Giorgio Armani Cheek Fabric; Marni shoes
MIDDLE: Olympia Le Tan book clutch; Motel top; Nina Peter gloves
BOTTOM: Maria La Rosa socks; Carven skirt; ASOS flatforms
Posted in

Beauty, Shopping, Trends
Tagged

accessories, Asos, beauty, Carven, Giorgio Armani, Maria La Rosa, Marni, Motel, new in, Nina Peter, Olympia le Tan, shoes, shopping, ss13, Stella McCartney, trends
3 Comments
Posted on 2 October, 2012 by Disneyrollergirl
Female designers are at the creative helm of some of the most successful luxury brands right now and coincidentally or not, a rather important trio of them has risen through the ranks of fashion via Chloé. Stella McCartney, Phoebe Philo, and currently Clare Waight Keller are at the forefront of intelligent, female-friendly fashion, gifting women the multi-tasking wardrobe fundamentals that answer our everyday demands. Continue reading →
Posted in

Brands, Design, Designers, Technology
Tagged

Chloe, designers, exhibitions, fashion history, Gaby Aghion, Karl Lagerfeld, Phoebe Philo, Ready-to-wear, Stella McCartney
2 Comments
Posted on 29 May, 2012 by Disneyrollergirl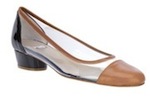 News just in: summer has arrived – cue Stella beach stripes, Mary Katrantzou florals and Carven zigzags. But let's not forget the inevitable nightly chills, hence a Kenzo sweater and Chloe boots. Plus Essie fuschia nails and Prism sunglasses to finish…
ABOVE LEFT TO RIGHT:
TOP: Stella McCartney shorts, £475; Prism sunglasses, £265; Essie nail polish, £7.99
MIDDLE: Natan shoes, £249; Mary Katrantzou jacket, £1,404; Lanvin bracelet, £359
BOTTOM: Kenzo sweater, £365; Chloe boots, £815; Carven shirt, £355
*NOTE: this post uses cookies in affiliate links*
Posted on 28 February, 2012 by Disneyrollergirl
A Mary Katrantzou lantern-print bag, Chanel's peachy nail colour called 'June', and Haider Ackermann's two-way shoe…
ABOVE LEFT TO RIGHT:
Valextra iPad case £340; Chanel nail polish, £17.50; Miu Miu star-print jeans, £330
Carven shirt, £335; Mary Katrantzou for Longchamp bag, £94; Stella McCartney top, £445
Tom Binns necklace, £880; Acne unisex sunglasses, £240; Haider Ackermann shoes, £534
Posted in

Beauty, Design, Shopping
Tagged

accessories, Acne, Carven, Chanel, Haider Ackermann, Mary Katrantzou, Miu Miu, shopping, Stella McCartney, Tom Binns, Valextra
1 Comment
Posted on 19 June, 2011 by Disneyrollergirl
Something tells me that punchy, head-to-toe prints will be the new colour-block come SS12. Taking the lead from Prada ss11, we have seen extreme, colourful prints from three highly influential brands: Celine resort ss12, Preen resort ss12 and Prada menswear ss12. Continue reading →
Posted in

Brands, Design, Designers, Fashion shows, Menswear, Trends
Tagged

Celine, Givenchy, Marc by Marc Jacobs, Prada, Preen, print, Resort, SS12, Stella McCartney, trends
2 Comments