Tag Archives:
Prism
Posted on 17 June, 2012 by Disneyrollergirl
Highlights from day 2 of London Collections: Men included more long-haired surfy swagger courtesy of Shaun Samson, and a vibrant baroque-printed vision of skater style from Katie Eary (complete with custom skateboards). Continue reading →
Posted in

Brands, Design, Events, Menswear, Trends
Tagged

Chris & Tibor, Hancock, Jonathan Saunders, Katie Eary, London Collections Men, Martise Rose, mensweat, Mr Hare, Prism, Shaun Samson, ss13, William Rchard Green
3 Comments
Posted on 29 May, 2012 by Disneyrollergirl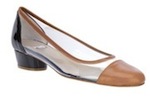 News just in: summer has arrived – cue Stella beach stripes, Mary Katrantzou florals and Carven zigzags. But let's not forget the inevitable nightly chills, hence a Kenzo sweater and Chloe boots. Plus Essie fuschia nails and Prism sunglasses to finish…
ABOVE LEFT TO RIGHT:
TOP: Stella McCartney shorts, £475; Prism sunglasses, £265; Essie nail polish, £7.99
MIDDLE: Natan shoes, £249; Mary Katrantzou jacket, £1,404; Lanvin bracelet, £359
BOTTOM: Kenzo sweater, £365; Chloe boots, £815; Carven shirt, £355
*NOTE: this post uses cookies in affiliate links*
Posted on 18 November, 2011 by Disneyrollergirl
Oh to have been a fly on the wall in Anna Laub's meeting with Elton John! The Prism eyewear designer was commissioned to hand make some bespoke glasses for Elton's Vegas shows. Who else would have their name spelt out in disco crystals?
Continue reading →