Tag Archives:
Moschino
Posted on 29 July, 2012 by Disneyrollergirl
If I was made of tamer stuff I'd have an iPhone by now. I must be the only fashion person still persevering with my BlackBerry Torch but I've never been one for peer pressure. BlackBerrys are easier for emailing which is mostly what I use mine for, although I do feel a bit left out of the Instagram club. Ah well, I think I have enough social media streams to manage. (Anyway, maybe one day, we'll get a Blackberry-iPhone hybrid.)
If you have an iPhone and a childish inclination towards kitsch plastic, you'll love Moschino's new iPhone cover. The Gennarino bear cover comes in brown, yellow or pink and lands in September…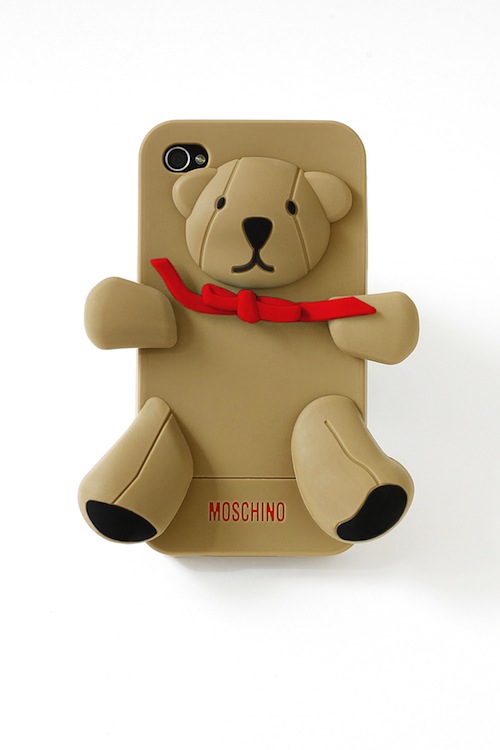 Posted on 12 September, 2011 by Disneyrollergirl
Did anyone go to Fashion Night Out? Wasn't it a blast? I had so many things I wanted to go to, from checking out Lulu Kennedy's 'Honolulu' at Liberty, to getting my nails did by Sophy Robson at Chanel, to falling whizzing round Rupert Sanderson's roller disco. In the event, I mostly got waylaid in various spots around Bond Street shooting the breeze with every blogger in town…
Liberty London Girl's packaging contest judging at Starbucks

Jeanette DJing at Vivienne Westwood

Good to see Phillip Sallon back on the social circuit

Alcohol was served in anything but glasses: punch in a teacup at Moschino, cocktails in coconuts at Lulu Kennedy/Liberty and jam jar bevvies at Harvey Nichols

I spy an Hermes horsebox – with the longest queues ever for 'bangle bowling' (bowl a bangle into a scarf-covered riding hat and win a paper bangle!)

Rupert Sanderson was hilarious fun (but not so hilarious for poor Katie Chutzpah who sustained a fractured-elbow-shaped injury). Here's a photo she took of me doing my best Olivia-Newton-John-in-Xanadu impression.

I loved Netaporter's idea of a shoppable 'window' where punters could win prizes. Here's my photo from London:

And here's the NYC version:

And finally, to Harvey Nichols' fashion fairground, a complete madhouse of London's craftiest designers customising FNO tees, bags and anything else in sight (J W Anderson even stuck Harajuku stickers on a Celine bag and someone's boots). My Secret Tees looked great of course and the bids are already stacking up. Feel free to bid if you fancy winning a one-off tee from one of London's coolest creatives. All profits to Kids Company – yay!)
Roksanda Ilincic on customising duty

Pin the ponytail on Karl's head

Set designer extraordinaire Fiona Leahy who made me the biggest Mister Whippy I've ever seen

Posted in

Art, Bloggers, Brands, Business of fashion, Design, Designers, Events, Magazines, Retail concepts, Technology
Tagged

Fashion's Night Out, Fiona Leahy, Harvey Nichols, Hermes, Moschino, Netaporter, Rupert Sanderson, Vivienne Westwood
3 Comments
Posted on 3 June, 2011 by Disneyrollergirl
Weeks have passed since press days began (they're just finishing now…) but I'm still resizing and uploading photos. Here's a few of my faves…
Demo of the new Chanel Confidential site with Lisa Eldridge

Posted in

Beauty, Brands, Design, Designers, Events, Trends
Tagged

beauty, Chanel, Margiela, Moschino, press days, Rupert Sanderson, shoes
4 Comments