Tag Archives:
Jeff Koons
Posted on 20 July, 2014 by Disneyrollergirl
Here's the latest weekly DRG STYLE INDEX ranking, a round-up of the brands currently buzzing on my radar…

1. JEFF KOONS FOR H&M
So did you? Get your hands on the much-coveted Jeff Koons for H&M handbag? To celebrate the brand new H&M NYC flagship and the Jeff Koons retrospective at the Whitney, a one-off handbag adorned with Koons' famous Balloon Dog was produced last week, sadly to the US market only. I wrote about it here. (And if you missed it, well you can always buy this signed bag for $1,500 on eBay… or, um, this empty carrier bag for $39. Yes, the world has indeed gone mad.)

2. EBAY TO STREAM SOTHEBY'S AUCTIONS


At last! Some credibility to eBay's luxury auctions, in the guise of a new hook-up with Sotheby's. This autumn, eBay will live stream most of Sotheby's New York auctions, allowing online bidding from eBay's customers, with an aim to extend the partnership worldwide. With rival auctioneers Christie's upping its own reach (it regularly reports from its auctions on Instagram), this is another sign of high art and fashion opening up to the masses.

3. SACAI X VANS
Just in at Dover Street Market, this season-inappropriate collab between Vans and Sacai. I love the low-key styling of neutral-coloured suede on a low-top or hi-top skate shoe. The furry lining I like too, just maybe not quite yet…

4. CALVIN KLEIN JEANS X MYTHERESA
Clearly it's not just me who's feeling the waves of Calvin Klein nostalgia. Last week saw MyTheresa's capsule line of CK Jeans classics land onsite, as modelled by Kate Moss's wee half sister. You can shop my edit below…
Posted in

Art, Brands, Business of fashion, Design, News, Online shopping, Retail concepts, Shopping, Trends
Tagged

AW14, best fashion blog, Calvin Klein, Christie's, collabs, DRG Style Index, Ebay, H&M, Jeff Koons, MyTheresa, retail concepts, Sacai, shopping, Sotheby's, Vans
1 Comment
Posted on 20 October, 2013 by Disneyrollergirl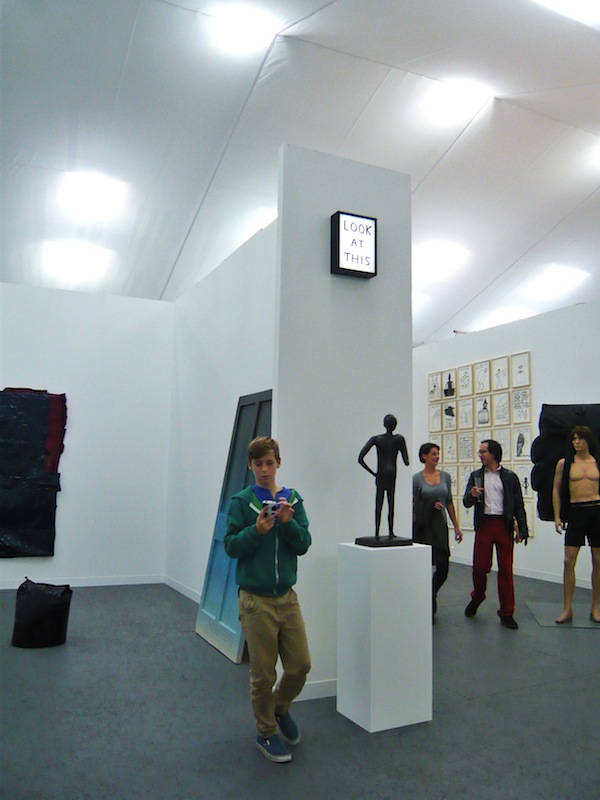 Note to self: next time you visit Frieze, allow a whole day, if not two. My half day allocation wasn't nearly enough once I had factored in a one-hour talk by photographer Stephen Shore. Continue reading →
Posted on 19 December, 2012 by Disneyrollergirl
Years and years ago I bought a photo book by Alexander Liberman called The Artist In His Studio (it's out of print but you can still find it on Amazon and eBay). I was (and still am) a bit obsessed with artists and their paraphernalia.
In this month's US Vogue, Annie Liebovitz has produced her mini-version, featuring the studios of Jeff Koons, John Currin and Jasper Johns. I loved the accompanying interviews and the close-up of Jasper Johns' charcoals and pastels. I definitely think she should do a follow up to the Liberman book.
On a side note, another publication that offers regular peeps into artists' studios, and writers' abodes, is Apartamento. I've just finished reading the last issue which featured the bookseller Conor Donlon and the writer Duncan Fallowell (below) who has every nook of his atelier stuffed with books. I can't decide if this is heaven or hell…
Posted in

Art, Books, Magazines, Photography
Tagged

Alexander Liberman, Annie Liebovitz, Apartamento, artists, Conor Donlon, Jasper Johns, Jeff Koons, magazines, Vogue
Leave a comment