Tag Archives:
House of Holland
Posted on 19 March, 2013 by Disneyrollergirl
Henry Holland certainly knows how to build a brand. He's the celebs' favourite, has a coveted Debenhams range (don't knock it, it's most designers' bread and butter) and his Pretty Polly tights sell in their thousands. Just in are these colour-drenched images of his new eyewear collection which lands at Browns and Houseofholland.com this week. Continue reading →
Posted in

Brands, Designers, News, Photography, Shopping
Tagged

accessories, brands, Debenhams, House of Holland, photography, Pretty Polly, shopping, Sunday Somewhere, sunglasses
1 Comment
Posted on 12 September, 2012 by Disneyrollergirl
Last season Topshop took the chance to turn London Fashion Week into a shopping opportunity. This season, Ebay is jumping in with an online pop-up shop to support Henry Holland. As part of the British Fashion Council's Fashion Forward initiative, Ebay is supporting Mary Katrantzou, Louise Gray and House of Holland with sponsorship, as well as live-streaming their SS13 shows on its Style Collective blog (where – ahem – you can also read some of my fashion musings). As a logical tie-in, it's also selling an edited selection of House of Holland AW12 on Ebay.co.uk from today until 18th September, with each purchase sent out with a pair of Henry Holland's phenomenally popular tights.
Gotta say it, this is a great example of 360° thinking; a neat way to bring the buzz of LFW directly to fashion-hungry shoppers while driving sales to Ebay and House of Holland. OK, you can't buy the SS13 collection straight off the runway (to my knowledge) but maybe we'll get that by next season.
Will you be buying?
Posted in

Brands, Business of fashion, Designers, Fashion shows, News, Online shopping, Retail concepts, Shopping
Tagged

AW12, Ebay, House of Holland, London Fashion Week, Louise Gray, Mary Katrantzou, ss13
Leave a comment
Posted on 23 March, 2012 by Disneyrollergirl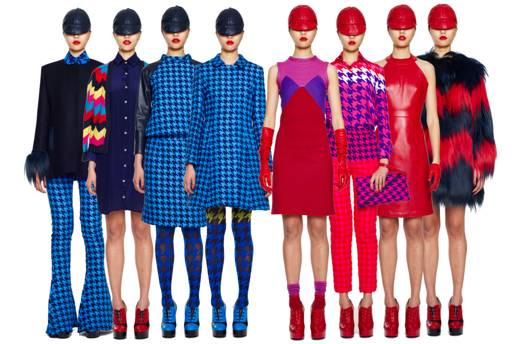 Roland Mouret in 2007, Burberry in 2010, Moda Operandi in 2011. Is 2012 the year that pre-tail goes mainstream? Henry Holland has just launched pre-tail for the first time with selected AW12 looks available for pre-order directly from his House of Holland website. Customers pay 50% up front with the balance payable just before delivery a few months later. The thinking goes that by asking customers to pay in advance, designers get a heads-up on which pieces will sell best thus avoiding wasteful over-production (not to mention easing cashflow). While Moda Operandi doesn't give refunds if you receive your item and decide it's a nonstarter (you can only get 'store' credit on the site – a bit jammy, non?), Holland operates the same 28 day refund policy as for his other online sales.