Tag Archives:
gentlewoman style
Posted on 27 May, 2014 by Disneyrollergirl
Summer is when I get (a little bit) more adventurous with colour so I'm well into all the primary brights we're seeing popping up everywhere. Rich royal blue is an easy choice for the colour-shy as it's almost a neutral so I'd wear that in a bomber jacket or rain mac (I'm currently looking for the perfect single-breasted mac). My manicure of the moment is Estee Lauder's Pure Colour in Impassioned, a candy apple red that can skew either formal or casual. I also can't get enough of Kelly green, especially in a fun print (hello Mother Of Pearl shorts), while a sunny shade of yellow lends itself beautifully to accents – this jolly Fendi key fob for example. Finally, thank you Keep It Chic for alerting me to Thomas Maier's Cruise 15 collection. You can't buy it now but as inspiration for a relaxed red suit, it serves very nicely…
Posted in

Designers, Shopping, Trends
Tagged

beauty, Estee Lauder, Fendi, gentlewoman style, Hermes, Michael Kors, Mother of Pearl, Nike, primary colours, shopping, SS14, Stella McCartney, The Row, Thomas Maier, trends
1 Comment
Posted on 27 April, 2014 by Disneyrollergirl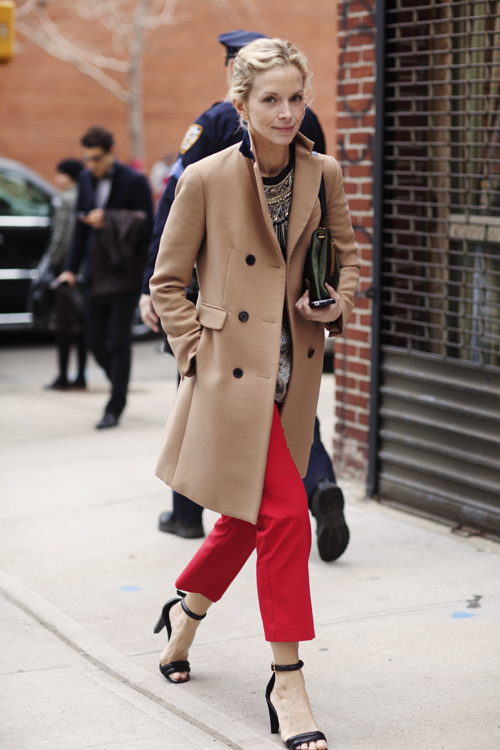 Spring pastels and summer neons may come and go but rich, handsome red never gets old. For starters, I love simple red sweaters, both for wearing and for tying round waists or shoulders.
Next, red leather accessories have a lovely nostalgic feel – Anya Hindmarch in particular has nailed it with her delicious two-way journal (which can be embossed with initials to personalise). Continue reading →
Posted in

Shopping, Trends
Tagged

Burberry Prorsum, Chloe, gentlewoman style, Gucci, Marc Jacobs, Serge Lutens, shopping, SportMax, SS14, trends
1 Comment
Posted on 30 March, 2013 by Disneyrollergirl
High street raincoats and trench coats are all very well. They no doubt look the part and some can be nicely made, but for long lasting and properly weather proofed trench coats, I prefer to buy from the originators. Continue reading →