Tag Archives:
Frieze London
Posted on 18 October, 2014 by Disneyrollergirl
Here's the latest weekly DRG STYLE INDEX ranking, a round-up of the brands currently buzzing on my radar…

1. NORDSTROM'S SECRET WEAPON
I keep reading about Nordstrom doing original things with digital and experiential retail and now I know why. Its director of creative projects is one Olivia Kim, formerly of Opening Ceremony, AKA queen of the clever collab and someone who just knows how to make retail exciting. This interview on Business of Fashion caught my eye…

2. MASSIMO VITALI FOR GAP X FRIEZE
Frieze London has been and gone in a flash! As with Frieze New York, Gap worked with Frieze and Visionaire on a range of artist collaboration sweatshirts that were sold at the fair. I didn't manage to get to Frieze so I'm gutted to have missed out on this Massimo Vitali sweatshirt, but rumour has it they may appear in select Gap stores this week.

3. IS BLUE FARRIER IN NEXT AT MULBERRY?
I wondered where Blue Farrier might be heading next after it was announced last week that she has left her post as creative director of Issa. Rumours suggest she could in the frame for the Mulberry top creative gig since Emma Hill's departure (ages ago now). Please let it be true! Farrier has a similar eye to Hill when it comes to youthful luxe and I think she really understand British heritage done in a modern way. Others in the frame are Johnny Coca (at Céline) and Hannah MacGibbon (ex Chloé). Farrier was also at Chloé for a while, back in the Phoebe Philo days. Funny (or perhaps intentional) how all roads lead to Phoebe and Chloé, no?

4. COACH x PEANUTS


Collaborations with cult cartoon characters are nothing new, however I do like this one. Two American icons come together in the form of Coach and Peanuts. Coach is making an effort to cement itself as a brand with its finger on the pulse, so its Peanuts collab features luxurious leather accessories embossed with Charles Schulz's famous sketches. For the uber-fan, there's the limited edition leather Snoopy dolls. Any takers? The collection lands in the UK on November 1st.
Words: Navaz Batliwalla/Disneyrollergirl
Images: Olivia Kim via Business Of Fashion; Gap; Blue Farrier by Phil Dunlop via London Fashion Week Daily; Coach
Posted in

Art, Brands, Business of fashion, Designers, Events, Photography, Retail concepts
Tagged

accessories, art, Blue Farrier, Celine, Chloe, Coach, collabs, DRG Style Index, Frieze London, Gap, Massimo Vitali, Mulberry, Nordstrom, Olivia Kim, Snoopy
Leave a comment
Posted on 8 September, 2014 by Disneyrollergirl
Oh, what a busy year it's proving to be for London's Dover Street Market. This month marks its tenth year and to celebrate it's doing what it does best, collaborating with its fashion friends to create more retail excitement than ever.
Let's not forget, when Dover Street Market opened in 2004 it was the first store of its kind, a weird and wonderful melange of mega-brands, just-emerging designers and street wear – ever changing and always unpredictable. Twice a year it operates its 'tachiagari', shutting up shop for three days while it installs a completely new vision for the new season.
This year, following its tachiagari in July, it's shaken things up again by adding a scattering of 'market stalls' (complete with striped awnings) selling DSM souvenirs to delight the store's avid retail tourists. Continue reading →
Posted in

Brands, Business of fashion, Designers, Events, News, Retail concepts
Tagged

art, Comme des Garcons, Dover Street Market, Frieze, Frieze London, Gosha Rubchinskiy, Instagram, JW Anderson, Loewe, Louis Vuitton, Nike, Peter Blake, retail concepts, retail news, Sacai, Simone Rocha
Leave a comment
Posted on 20 October, 2013 by Disneyrollergirl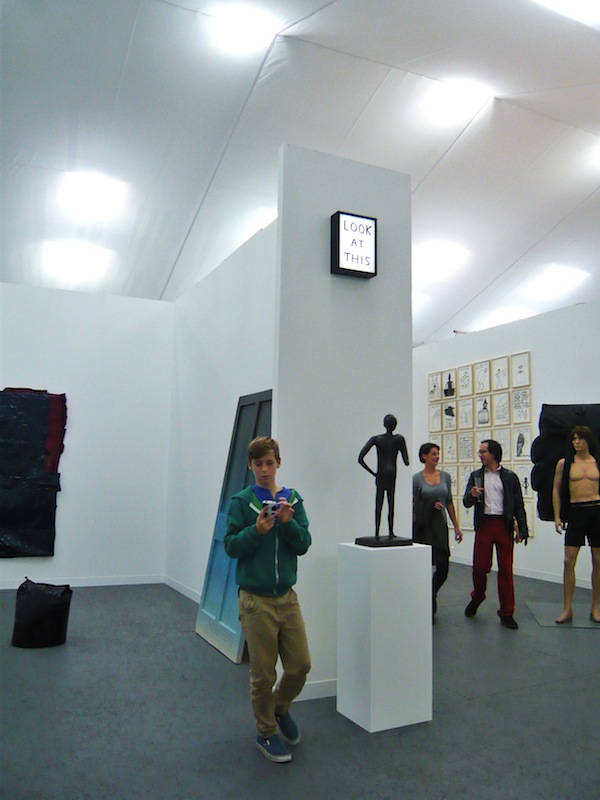 Note to self: next time you visit Frieze, allow a whole day, if not two. My half day allocation wasn't nearly enough once I had factored in a one-hour talk by photographer Stephen Shore. Continue reading →